Google AdWords Management
Remember, Quality traffic to your website is the only method to get projected sales
Using Google AdWords, you can put your message in front of target audience members exactly when they are looking for the products or services that you offer. Our AdWords experts can help you build campaigns that will drive an immediate increase in targeted traffic to your website, and help you turn leads into customers. We can manage your AdWords account on a monthly, ongoing basis. We will provide daily monitoring, weekly optimizations, and weekly reporting. Before we build your AdWords campaign we discover what type of target market and keywords will best fit the buying signals for your best customer. Once we've approved both your keywords and ad copy we build out your campaign with our own unique AdWords management technique.

A Google AdWords campaign will ensure your business appears to the thousands of potential customers searching for your product or service online every day. With our Google AdWords management services, include campaign set-up, comprehensive keyword analysis, ad copy and optimization, bid adjustments, landing page optimization, performance monitoring, reporting and more. we provide frequent monitoring of your campaign to ensure you continue to receive the best possible results. If we see room for improvement, we will let you know and provide recommendations. It's our aim to provide you with the best price and a superior service that will help you get the most out of your online advertising opportunities.
Experience tells us that the fastest, most sustainable results come from a big-picture approach. That extends from the time we take to understand your business, goals and industry, through to:
An account manager that is a qualified AdWords professional
Ongoing optimization of your campaigns
Optimizing your keywords strategy for your AdWords account
Proactive recommendations and regular reporting
Full access to your campaign and your data
Accurately researching the most effective search term combinations
Improve quality score, improve ROI, design & optimized landing page quality
Comprehensively tracking, measuring and continually refining campaigns
Fine-tuning everything, from the geographical location to the timing of your AdWords ads
Reducing acquisition costs and improving your ROI on an ongoing basis
Receive monthly reports detailing all aspects of any changes, alterations and results
Our Google AdWords Management Main Services Include:
Search Ads
Display Ads
Remarketing Ads
Shopping Campaigns
Account Audits
Account Structure/Restructures
New Account
Keywords Research
Text Ads Creation & Optimization
Display Ad Creation
Landing Page Optimization
Conversion Tracking & Google Analytics
Google AdWords Setups & Optimizations
This, along with AdWords management is my core service. If you need a new AdWords account, We will build you a great account. And if you have an existing AdWords account We will audit it and optimize your existing campaigns. Advertising on Google, through the Google AdWords platform, is by far the most effective form of marketing. It's the most cost-effective and highest-converting form of advertising that exists. But the key to AdWords success and using your budget effectively, is to make sure that you're running your AdWords campaigns correctly. AdWords is very easy to get started with, but most people can benefit tremendously from bringing an AdWords expert in to set up and run their AdWords campaigns for them. And that's where we come in. We'll create great AdWords campaigns that achieve your marketing goals and spend every penny as effectively as possible.
Our Google AdWords Optimization Process
Well Thought-Through Setup Cost-per-click advertising may seem simple, but the AdWords platform is quite complicated. Sometimes people contact us after getting themselves into quite a mess with trying to set up their own campaign. While we encourage our clients to learn how AdWords works, even Google advises using experts to help in the setup and optimization process. AdWords is a live bidding platform and you're ads are competing with those of many other advertisers.
Here are some of the things we can do for you in the setup process:
Testing new ad copy
Keyword research to find the best phrases
Landing page editing and creation
Apply bid management strategy
Quality score improvement method apply
Install phone call conversion tracking
Make your ads stand out from the competition
Create an effective remarketing campaign
Negative keyword Insertion
Conversion tracking & Google analytics implementation
AdWords Keywords Research or Optimization
Keywords are the roots of the AdWords system. Ads are what the user will see, but an effective, targeted keyword list is the foundation of a successful campaign. Ranking and cost-per-click are determined by the click-through rate (CTR) and maximum CPC for an individual keyword. It is important to remember this because the system can be slightly confusing at times by allowing you to set a maximum CPC at the ad group level. This sometimes can cause to think the CTR of the ad matters, when really it's all about the keywords. Keyword optimization is equally important as keyword research.
Below are some benefits of adwords keyword optimization are as follows:
Enables you to increase conversion rates
Improves CTR which can lead to improvement in your quality score
Improves return on investment (ROI) for your AdWords campaigns
Identify keywords that your customers use commonly
Understand which type of keyword (long tail vs. short tail) perform well for your website
Set up conversions to analyze the quality of traffic brought by paid keywords
How Google AdWords can Benefit your Business
Google's online ad network is the biggest of it's kind in the world, reaching over 90% of the 3 billion users of the web. Buying and holding prime positions on this network is a guaranteed way to drive pre-qualified, high quality traffic to your website which, in turn, converts into leads for your business. The name often given to this type of marketing, PPC, refers to the way it works - you only pay when someone actually clicks on your ad and is directed to your website.
Here's some of the main benefits of Google AdWords:
You can start with any budget and Increased leads and sales almost instantly
You have the option of targeting people locally, regionally or even globally
Allows you to drive pre-qualified and highly-targeted traffic to your website
Using the display network can dramatically increase your brand awareness
Easily measure your AdWords profitability with ROI tracking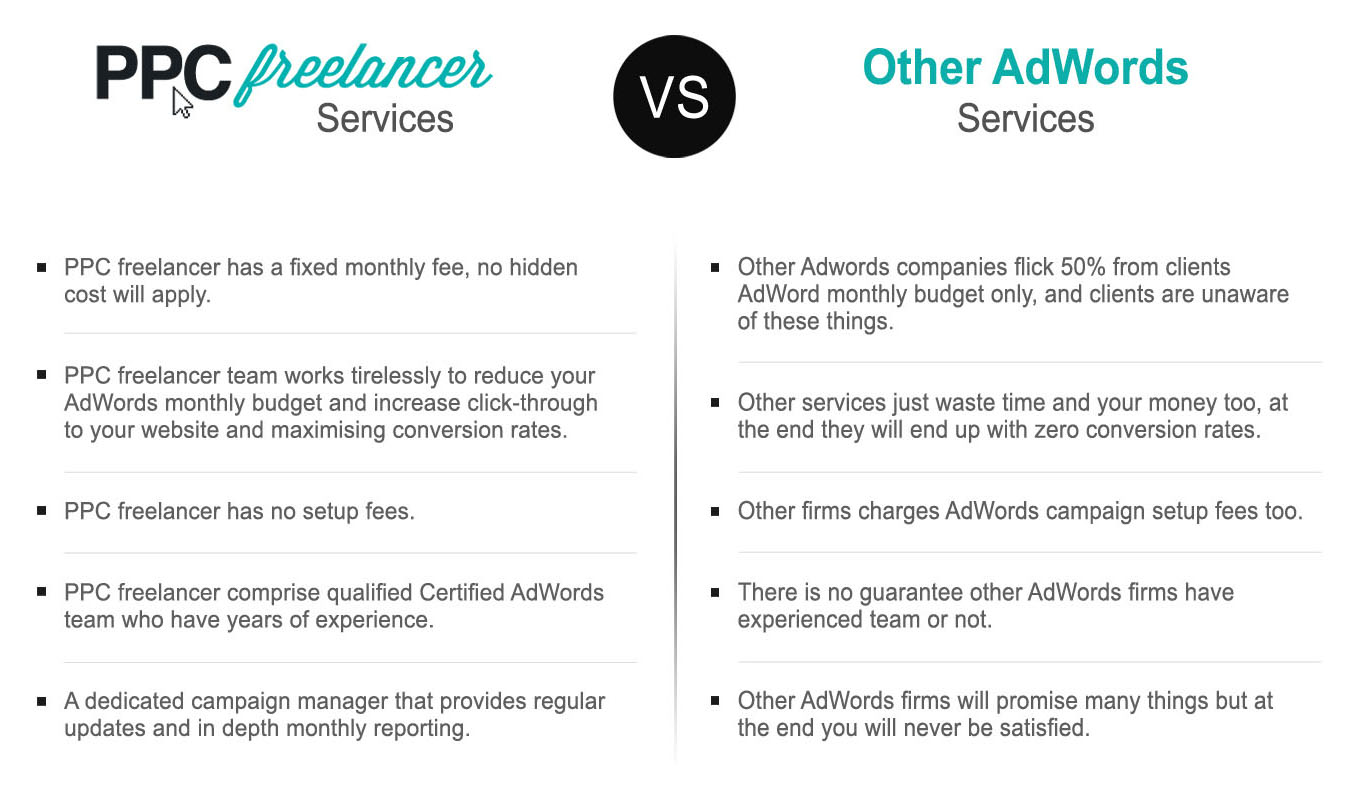 AdWords Audit & Recommendations
Do you want or need someone with experience to examine your troubled AdWords account? Do you really need a professional AdWords expert to look over your existing AdWords account and make actionable suggestions? Do you want to avoid being pressured into a full account management service? Our Google AdWords audits look at your existing Google AdWords campaigns and assess them on the basis of functionality, efficiency and Return on Investment. Areas reviewed include account structure/restructure, ad group creation, keywords analysis, ad copy analysis, conversions and ROI, quality scores, landing page optimization, bid strategy and competitor metrics. After implementing our changes, if you don't see an increase in your AdWords return equal to the price you paid for the audit within 30 days, we'll give you your money back.
Our AdWords audit team can help if:
You are spending money on AdWords but not getting the return you'd like to see
You want to reduce your AdWords costs but still maintain your online presence
You are new to AdWords and want to make sure your account is setup correctly
You are worried you might not be following paid search best practices
You are new to Adwords and need to improve the quality score of your AdWords campaign
You are new to Adwords and trying to improve your landing page experience but don't know how to start
Why Use Google AdWords? Or New to AdWords?
AdWords is a great way to generate traffic to your site quickly and effectively. Google AdWords can help expose your business to a wide range of audiences, and keep your brand in the back of their mind. For many businesses Google AdWords is an efficient marketing tool. With the pay-per-click model, detailed performance metrics and the flexibility of setting a maximum daily ad spend, the investment in an AdWords campaign can be an excellent way to acquire new customers. Our Google certified professionals can even provide PPC training or PPC Consultancy if you want to to do your own advertising, or learn some new ways to advertise.
Do you really want to try Google AdWords but don't know where to start? or do you already have a campaign but not happy with the results? if you want to to do your own advertising, or learn some new ways to advertise. Contact us today and find out how our AdWords management team can position your business in front of valuable customers.