Facebook PPC Management
Facebook PPC Management is a great opportunity for those that are new to the world of pay per click campaigns or for those that have not gain much success with Pay Per Click campaigns in past. Our Facebook PPC Management experts will be able to determine where you have been going wrong during your past pay per click campaigns and help you to be conscious from spending money on a campaign. In order to attract more advertisers that are interested in using the revolution known as social networking to their advantage Facebook has started offering a brand new pay per click program. This program is called Facebook social ads, is a great way for advertisers to run targeted ad campaigns on one of the most popular and active platform, social networking sites available today. The Facebook Pay Per Click program is extremely affordable and fairly easy to use. Using a Facebook PPC management service will ensure that you get the most out of your Facebook pay per click campaign. Our dedicated PPC experts are assigned to help you during your Facebook Pay Per Click campaign will be available for weekly or monthly meetings to discuss any concern you have or brainstorm ideas that can help further to expand your business.
Our PPC experts team will also help analyze the demographics and interests that will generate the best results. Our Facebook PPC management experts has years of experience in deciding what advertising methods get the best results in spending low rate and they will be able to tell you which demographic areas to concentrate your campaign on. This will help increase the conversion rate of your traffic a large percentage of web site visitors that are generated, Facebook is actually purchasing your product or service and making your investment into good one. We will provide you a monthly statistics report for all your Facebook campaign's, which would include impressions, clicks, and conversion numbers, you can also get in touch with our experts regarding your questions about the report.
Our Facebook PPC management services includes:
Audit of Existing Facebook Ad Accounts
It's significant that Facebook Page managers take time to regularly audit their page and ensure that they are not missing out on new features.
Tracking and Conversion Analyses
Basic analytics tracking and conversion tracking codes will be provided and can be installed by a Click as needed. Proper tracking is essential to our success and we will work with your team to ensure it is accurate.
Audience Selection and Testing
Selecting the Location, Age, Gender, Demographics, Interests, (TV Shows, Influencers and Magazines) Competitors, Behavior and Connections are key to the success of any Facebook PPC Campaign. We believe in continuous split-testing.
Remarketing
Create and manage website custom audiences in order to run remarketing campaigns across Facebook. It is a great way to re-engage with your audience who visited but didn't make any conversion.
Find People Similar to your Customers
We will create Lookalike Audiences where Facebook will find even more people who are similar to your customers who liked your page, who engaged with your page, who visited your website, or who uses your app.
Managing by Devices
We set up campaigns that target your audience by devices also.
3rd Party Data
We will tap into third-party data to improve your conversion goals more easily and effectively.
Ad Variations
Clickable recommends split testing a variety of ad variations. We will create a series of highly optimized ads and will do constantly split test against one another. We will also incorporate ad extensions into every ad group and optimize them as well, in an effort to improve click-through rates.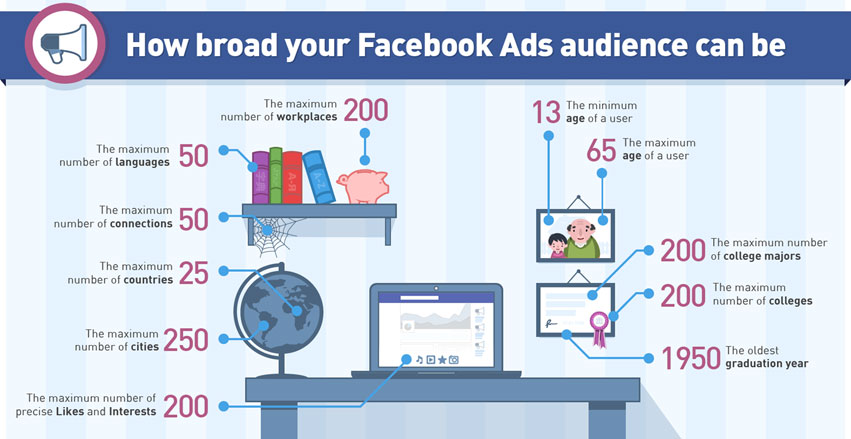 Facebook Advertising (The Ultimate Targeting Tool)
Facebook advertising is an extremely powerful method of targeting potential customers on the most popular social media site in the world. With 1.2 billion users, including 727 million daily active users, Facebook is the leading social media platform which derives more customers than Google. Ads on Facebook are unique because they are shown to particular groups of highly engaged people on mobile and desktop. When your ads are more targeted and presented with creative and unique content, they receive more likes, shares and comments. When an individual performs any of these actions, their friends and friends of friends may see your ad therefore making it more powerful. When you increase your audience or boost your Page for your ads, more people see your ads whenever they visit Facebook. We'll guide you all through the entire process from creation of adverts for achieving genuine results.
Design Your Ad
Royalty-free images, modern fonts, and professional design tools make it easy to create ads that really stand out.
Analyze & Optimize your Ads
Every viewer is different so a successful Facebook ad strategy requires testing and analysis. We'll show you how your ad is performing, and let you easily re-use your creative assets to test different audiences and budgets.
Target Your Audience
Get the most out of your Facebook ad budget with simplified targeting to reach audiences by interest, location, and more. Facebook can help you to reach people who matter most to your business. Any Businesses can target Facebook users in two ways.
First is the traditional Pay Per Click (PPC) method. You can bid to have your ad seen on the sidebar in users' News Feeds meaning they're always in sight. Those clicks will go to your own landing pages, allowing you to track leads and conversions from Facebook.
The second option allows you to advertise directly in the News Feeds of relevant users, influence them to Like and visit your Facebook Page. These ads help to spread your social reach, making more people aware of your brand and current promotions.
Get Results
Go live in minutes and start getting results; you can use to optimize your future Facebook ad campaigns. Whether you need to connect with more users through your Page, finding the most ideal customers for your apps, or increasing your sales and traffic to your site, Our PPC experts offers you professionally managed and monitored Facebook ad campaigns for your company, brand, page, website or service. We can target people on Facebook by:
Age, location & gender
Relationship Status
Income / net worth
Hobbies and activities
Business and industry
Shopping behavior
Fields of study / Degree
Home type
Travel Methods
Online spending
Specific page likes and much more!
Pricing
Facebook PPC campaign price based on the percentage of how much you plan to spend in promoting your company. In such cases, we need to create a custom quote for each campaign.